Marlee Kline Lecture in Social Justice: Skirting Around Colonialism
March 6 @ 5:30 pm

-

6:30 pm
ABOUT THE LECTURE:
The Marlee Kline Social Justice Lecture honours the memory of Marlee Gayle Kline. This lectureship not only recognizes Marlee's rich contribution to the law school community but also reflects her belief in the central role social justice concerns must play in legal education and law. Professor Kline died in 2001 after a lengthy and determined struggle with leukemia. Her work on feminist legal theory, critical race theory, child welfare law and policy, law's continued colonialism, and the restructuring of the social welfare state is internationally acclaimed. A list of past Marlee Kline Social Justice Lectures is available.
LECTURE DESCRIPTION:
This lecture explores the clothing of nehiyaw and Anishinaabe women at the time of European contact to its current state; how the influence of church and state have violently and brutally impacted women and 2spirit peoples place in the structures of nehiyaw and Anishinaabe life. Policing and controlling women's bodies has fractured and decimated the power of women: the use of canon law and common law continues to uphold and enforce current colonial projects and systems in the typologies of genocide.
SPEAKER: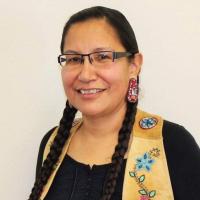 Sylvia McAdam (Saysewahum) is from the Treaty 6 lands in what is now called "Canada."  She is a direct descendant of Treaty peoples and Original peoples of these lands. Sylvia is from the nēhīyaw Nation. She has her Juris Doctorate from the University of Saskatchewan and a Bachelor's degree in Human Justice from the University of Regina.  Sylvia is co-founder of a global grassroots Indigenous-led movement called "Idle No More." Idle No More has changed the political and social landscape of Canada as well as reached the global community to defend and protect all lands, waters, and animals.
Sylvia is also co-founder of the "One House Many Nations" Campaign, which designs off-the-grid sustainable tiny-homes to address and raise awareness about the epidemic unacceptable proportions of homelessness in such a wealthy state as "Canada" especially amongst Indigenous/Original peoples.
Through the work of protecting land and water, Idle No More has been selected for several awards, namely: the Carole Gellar Human Rights Award, Foreign Policy Top 100 Global Thinkers 2013, Social Justice Award, and 2014 Global Citizen Award. ​Most recently, it was awarded the Margolese National Design for Living Prize.